Testimonials
voluntaryEDGE™
People are talking about us.
And we're loving it. Check out the below references and case studies to learn why voluntaryEDGE and our Benefit Accounts for the Public Sector solution is a win for brokers, employers and members.
A Public Sector Solution Win
Learn the story on how Ken Morris, a Group Representative for Aflac teamed up with an Aflac Tier 1 Broker and Maestro Health.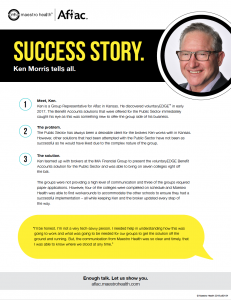 voluntaryEDGE Success Stories
Hear first-hand from a variety of our partners on how our end-to-end benefits administration platform creates a superior, streamlined benefits experience.